For my birthday, one of my best friends gave me a gift card to L.L. Bean (thanks Raquel & Jeff!!). Of course I decided to use it to get one of their famous boat & tote bags--a nearly indestructible bag made of water-resistant canvas, originally designed to haul ice over 65 years ago.
It
should
go without saying that this is not me, and my bag won't be periwinkle (try black & monogrammed), but just in case, there's the disclaimer. :) While debating whether to go with the large or extra-large, I started reading the reviews (I'm all about reviews, all the time), and found that people really go
crazy
about these bags!! Some of the reviewers said they'd had their bags for over 20 years and had actually passed them down to family members--wow. I've always loved them, but I was completely unaware of their apparent cult-like status. When describing the differences between the two sizes, the first comparison thought that popped into my mind was . . . AN ESPRIT BAG--hello!! I hope I'm not throwing myself out here and no one else knows what I'm talking about, but they were all the rage in elementary/middle school.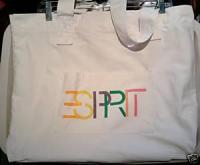 Remember this? Was it just a California thing or what?? I mean, it really felt like you were a nobody if you weren't rocking an Esprit bag, and now I bet you'd have to do a bit of searching to find one anywhere. Looking at this bag reminds tetherball and Honey Crackin' Oats cereal--ah, the good ol' days.
Do any of you have a Boat & Tote? Do you love it or what???