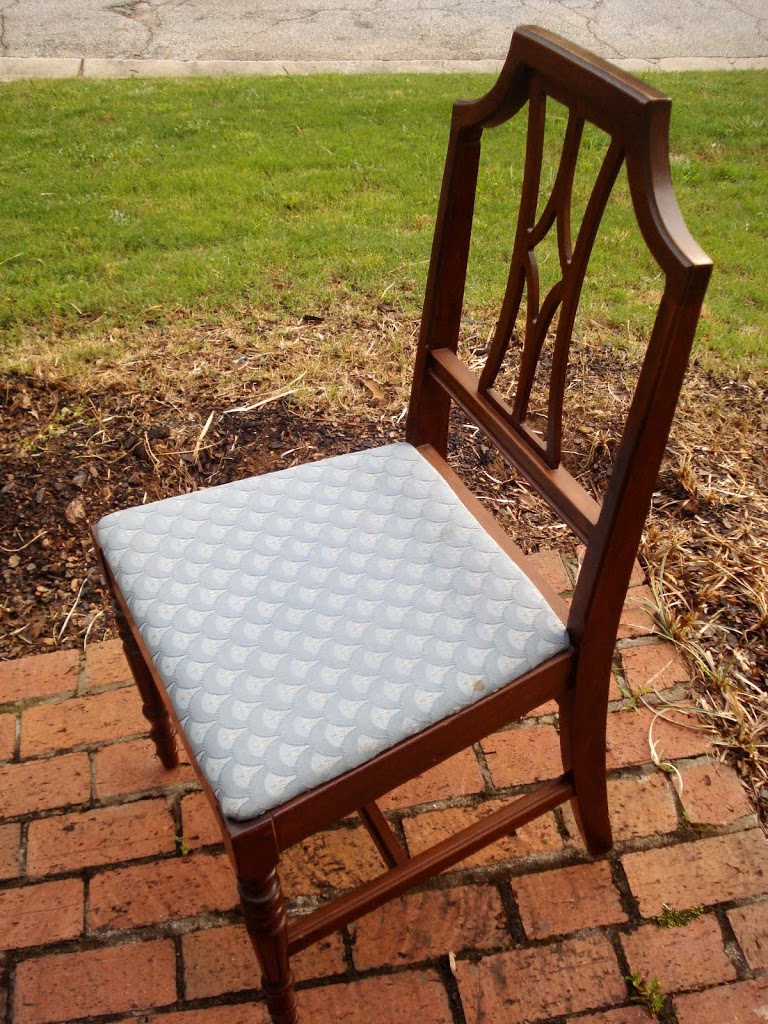 I've been planning on organizing my office for quite awhile, but the last few months of school made it nearly impossible to get anything of substance done. I have a laundry list of projects/goals that I need to get done including adding shelving to the closet (to hold the majority of my books & magazines), painting the top 1.5 inches of the wall (thought I would be installing crown moulding, but it doesn't look like it . . . ), and sourcing and refinishing a new (to me) desk & chair. Well I found and finished the desk, and recently finished a dining chair I've repurposed as an office chair. Here's the before:
I chose this chair because it was in excellent condition and had just the lines I was looking for! I wanted something with a straighter back (to provide support while I'm toiling away at my desk) and yet still have classically feminine lines.
My favorite details are the fluted legs and the scalloped back, and if I had to guess, I would say this chair is what I imagine a modern Sheraton chair to look like (if you added leg stretchers), but unfortunately I have no clue where/who it's from! Regardless of its origin, for only $12, this fit the bill perfectly.
After a quick application of primer, I sprayed the chair a bright, glossy white and decided to use Kravet's Sommers fabric in the Atlantic colorway.
I love the modern print, and the variations of blue in the fabric are the perfect complement to my wall color (think Benjamin Moore's Brittany Blue). After adding additional batting and reattaching the cushion, here's a look at my completed chair.
After allowing it to cure and off-gass for a few days, my office chair is finally ready to go, and it's the perfect complement to my campaign desk. My next project is making (or sourcing) a large bulletin board for the area above my desk--stay tuned!