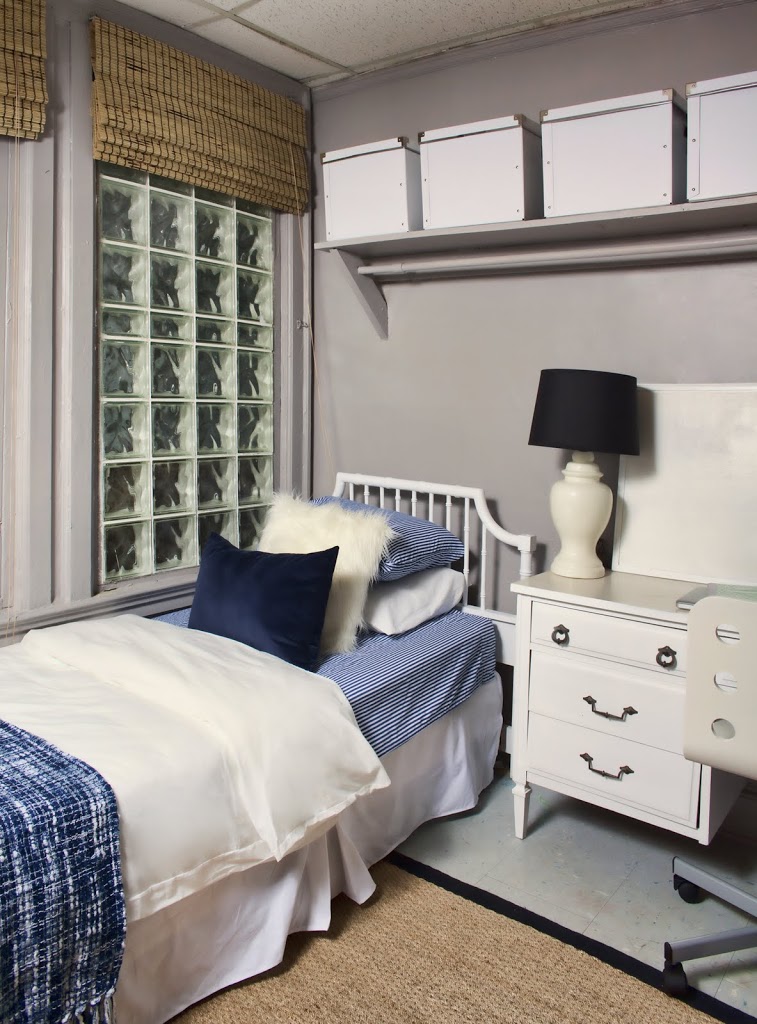 So 25 hours of hard labor, about $800 dollars, and 8 volunteers turned my view-less room at the Nicholas House into this:
ugh--that darn shade...
And I have a secret--I didn't actually come up with this plan until the Saturday before the install began, which was really pushing it. My first plan to have duvets made by my seamstress didn't work out (even though I'd already purchased the fabric!), so I hatched my next one in the aisles of Target's home section. Here's what I used:
paint: SW Proper Grey
duvets: Ikea
sheets: Target
toss pillows: Target & Ikea
desk chair: Ikea
shelving: Ikea
baskets: ikea
storage boxes: Ikea
dresser: Craigslist
headboard: Goodwill
desk: mine (via Goodwill)
rug: Ikea
toy basket: Home Goods
mirror: mine (via Goodwill)
hooks: Ikea
overdoor storage: Lowe's
underbed storage: Ross & Walmart
chandelier: Ikea
bamboo blinds: Overstock
throw blanket: Target
As with all of the rooms, there was a serious storage problem, so the bulk of my money went to solving that problem. I bought 5 soft plastic underbed storage bags from places like Ross & Walmart and used those to store shoes, out of season items, and old comforters. The family also had some of their own storage bags, so I packed as much as I could into them and stored everything away under the beds. Wall baskets were reserved for daily items, pajamas, & underwear. 10 Hooks behind the door and 4 on the wall (next to the beds) now hold book bags, hanging clothes & towels, and the white storage boxes above the bed hold cleaning products, laundry items, bedding & towels. To brighten up the grey, I painted the bunkbed white (with the help of my fabulous volunteers) and did the same with the dresser, desk and headboard. The final result is rather simple, clean & relaxing and I'm really, really pleased with the way with my room turned out (especially given the spatial & financial constraints).
I know this is a long post--I have to say, I'm so proud of this group that Erika & I have put together and felt so inspired by the work that all of the designers came together to accomplish! We've had an incredible amount of positive feedback about our efforts and so many designers have already asked to sign on for our next project which we're already brainstorming about! We're happy to announce that Room Service Atlanta will be a twice per year venture and we're shooting for the stars. I left the shelter Friday feeling very emotionally overwhelmed after hearing the feedback from some of the residents and reading a beautiful note that Sherry's residents left for her. This project really helped to put things into perspective for me, but I think I speak for everyone else here, too. It's easy to forget that some people really do have it worse--like living 6 (or in Julie & Anisa's case, 10!) to a room that's about the size of a shoebox with a lot of personal items in a small space (or in some cases, very few personal items at all). So many people are really struggling right now, and it's really been fulfilling to be able to give back of a gift we've all been blessed with. There were definitely some challenges along the way, but everyone carried themselves with grace & humility throughout it. Julie & Anisa probably got it the worst--they arrived at the shelter Monday expecting to makeover a room for 3, only to find that the resident didn't want her room touched. They immediately signed on to do the largest room (housing a family of 10!!) on the spot, returning the new bed they'd purchased (for the other resident) and used that money for new bedding in the larger room. Now THAT's the perfect illustration of the type of team we had on board!
I know I've said it before, but thank you so much to those of you who donated to these efforts, whether it was specially to me or another designer involved with RSA. We ABSOLUTELY COULD NOT have done it without the financial contribution and hands-on volunteer support, and every little bit truly helped. By donating an hour of your time or $25 from your wallet, you helped us let 12 families know that they're important & valued by their community. Sincerely, thank you for everything.