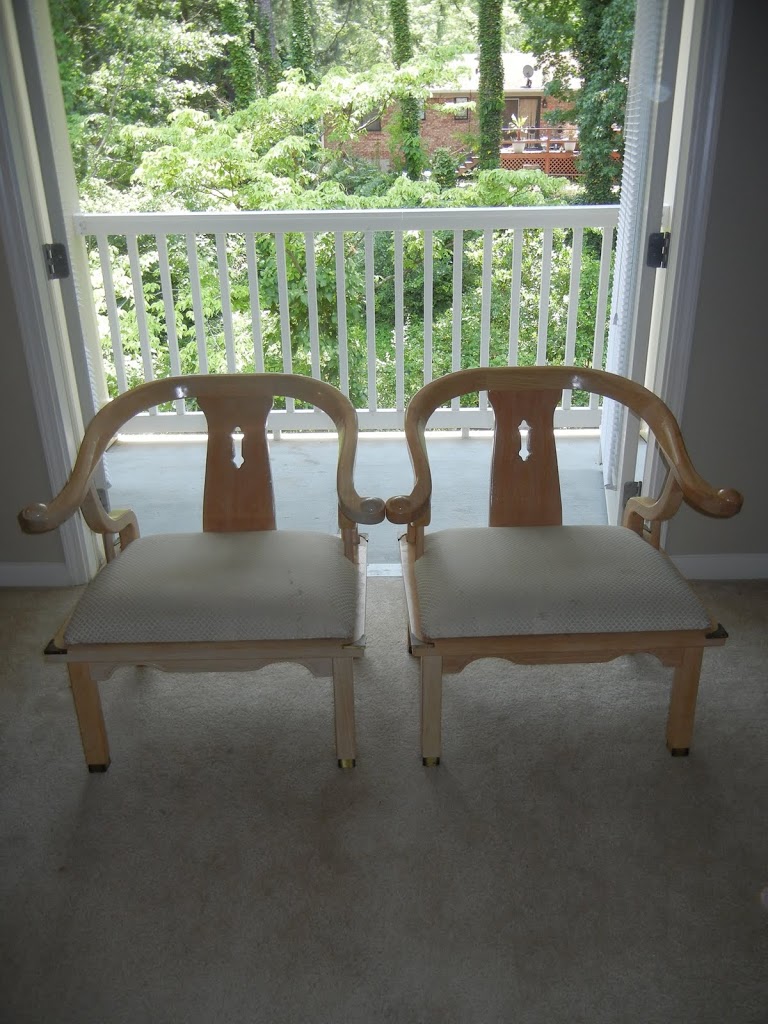 Even if you're not a hardcore DIY'er, recovering your chairs is the fastest (and easiest!) way to update your home. Take this pair of chairs I gave my sister for her new apartment--the classic character makes them perfect for occasional chairs, and even without a fresh coat of paint (which they could use!), removing & updating the fabric takes them to the next level.
Start with some great chairs (this Asian-inspired set is timeless)...
Unscrew & remove the seat bottom.
Center the pattern on the cushion and cut your fabric to allow for extra overhang on each side. Once your template fabric is centered, place one staple on the bottom of the cushion (front & center) to hold it in place and work strategically around the perimeter until you have the fabric completely secured and as smooth as possible. I find it easiest to place a few staples along the sides and then do the corners to get the most seamless fit. After replacing the cushions you can see that, even without a fresh coat of paint, these chairs have been dramatically updated in about 10 minutes!
I don't think there's an easier DIY project out there--even painting furniture is a bit more difficult because it involves a few more steps, some additional know-how, and some serious buyers remorse if things don't turn out as expected. When you recover a chair you can't lose! If the pattern isn't correctly placed or the staples don't land in the right place, simply remove the staples and start again--it really is easy as pie.