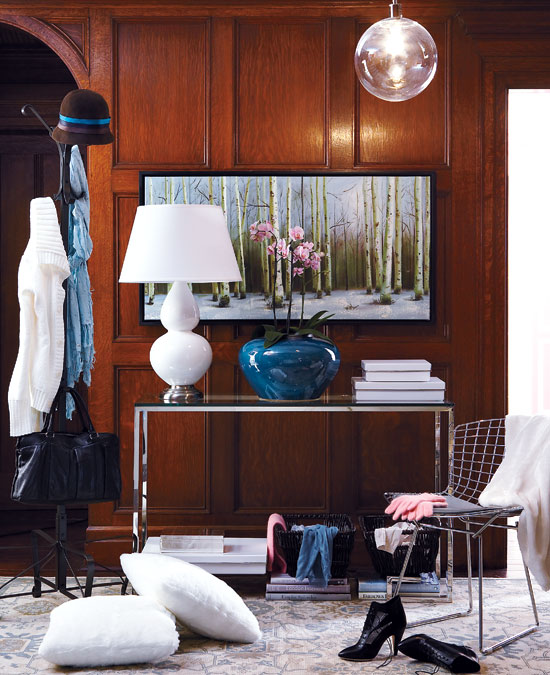 I'm back with another High/Low from one of my favorite Canadian magazines, Style At Home. This should be a bit easier to guess than the last time...
So which is which and more importantly, why???
....
....
...
..
.
The "High" is photo number 2
(hope you guessed right)
!
I won't give you the numbers & sources (you'll have to go to
Style At Home
for that!), but
here are 9 things your eye should've caught:
1. Lighting. The high has 3-4 bulbs, while the low has only 1. The slightly oval shape of the high should also tell you that it cost a bit more than the standard round shape. I'm pretty sure the "Low" light is from West Elm.
2. The artwork, HELLO???! This is quite possibly the biggest a-ha. One looks like it came from Z Gallerie (the Low), the other looks like a truly artistic piece from a contemporary artist.
3. The console table. One is a more run-of-the-mill, 1-shelf chrome & glass table (CB2) and the other is visually heavier, with a thick chrome frame, 2 shelves, and chrome legs with detail.
4. Pillows. The thick, fluffy texture of the "high" pillows adds so much detail to the space versus the flatter style of the "Low". For those of you who wonder about interior styling, these photos are perfect examples of why you always want to use a mix of textures to create visual interest in your design.
5. Lamps. You have to look closely but the carved, Asian-inspired wood base, glossy paper shade, and gold ring finial let you know that the "High" lamp didn't come from Target. Not that we don't love Target, and all....
6. Coat Racks. Peep the scroll and curved detail on the "High" coat rack--detailing almost always means more $.
7. Storage boxes & baskets. If you shop Ikea like I do, you know the "Low" baskets are an Ikea original. With the storage boxes, one pair have a hinged top, the others have a lift-top. We DIY-ers know that hinges cost money.
8. Rugs. Antique rugs look faded but still have a color (and detail!) that isn't matched by contemporary rugs. Don't be fooled.
9. Did you notice the pashmina's hanging from the baskets? One looks like beautifully detailed wool...the other doesn't even look like a scarf!
Did you guess correctly? What did your eye notice first??