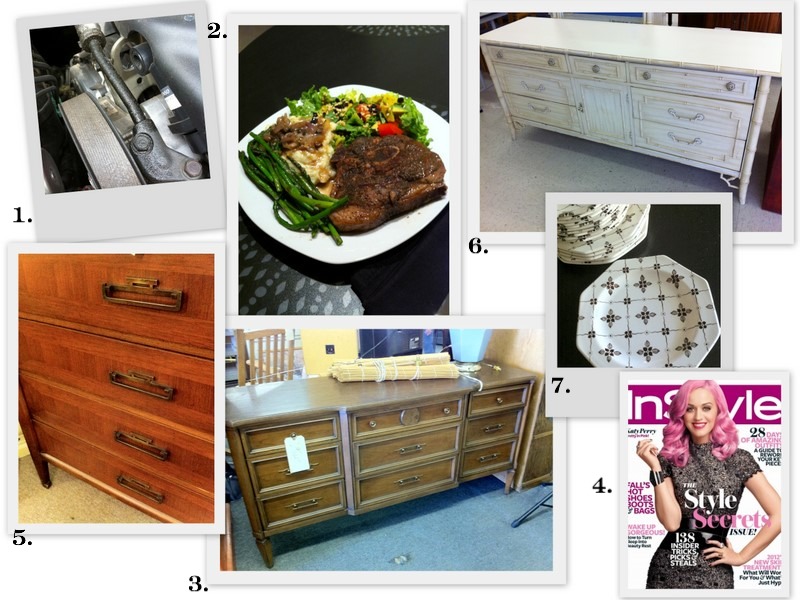 1. It was sooooo nice to be back on 4 wheels after a hellacious week of car problems (on a car that has only been serviced at the dealership, no less). One thing I'll never take for granted is being able to jump in the car everyday and know without a doubt that it will start up. Atlanta had gorgeous weather this weekend & I was grateful to be able to hit the open road! *and for those of you who don't know, the photo is of a power steering line*
2. The weekend kicked off at my sister's house for dinner. She a connoisseur of many things, one of which is a gourmet chef. Lamb steak, asparagus, super creamy mashed potatoes with a DELICIOUS mushroom & onion gravy, and a yummy salad made my night (wish I could remember what was on the salad...).
3. This is one of my favorite style dressers to use as a tv console! It has classically traditional lines, a vintage history, & super solid craftsmanship. With the right paint job, it can easily go from dresser to buffet to tv console and back again--my client is excited and so am I!!
4. Spent quality time catching up on some mags in my downtime. I rarely read anything except design & business glossies these days, but I've decided to renew my subscription to InStyle--the October 2011 issue was packed with great info!
5. One of the things that draws me to vintage furniture is the hardware. Even if I don't love a piece, I'll buy it just to get my hands on some beautiful hardware. I like to think of it as finding the perfect hairstyle to go with your favorite outfit--the outfit might be beautiful, but the bad hair can really leave a sour taste in your mouth.
6. If you've read this blog for any amount of time, you know that I love faux bamboo.
L.O.V.E
I added to my growing collection this weekend with my "new" vintage faux bamboo Thomasville Allegro II Collection dresser. If you're interested in purchasing it before it gets refinished (or you'd like a custom refinish job), email me. I can assure you my price will be less expensive than others across the web!
7. Something about this vintage Ironstone dishware by J & G Meakin caught my eye and I had to make a return trip to snatch it up. I didn't get a whole set, but they're the perfect pieces for layering a tablescape. I've already got something brewing in my mind!