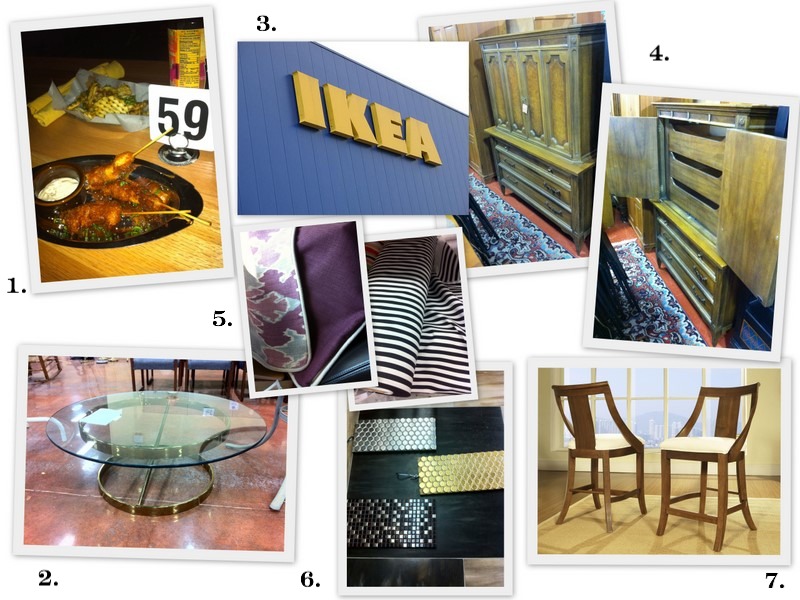 1. Finally had the Shrimp Dog at
HD1
, the new hot dog (or
haute dog
, as they like to call it) boutique owned by Chef Richard Blais, season 4 runner-up of Bravo's "Top Chef". All I can say is Y.U.M.
Shrimp fried in grits? More, please!
I have to say, the eating is pretty good here in Atlanta. First
Flip Burger
and now HD1? Chef Blais doesn't disappoint!
2. Found this interesting coffee table at one of my favorite haunts this weekend. I couldn't decide how I felt about it (plus I'm notoriously cheap when it comes to thrifting), but I've since decided that I love it and it's a must have! The shape of the base is what grabbed me, plus I need a new coffee table so it's a perfect fit. Thinking about replacing the glass with marble, if it doesn't break the bank...
3. Got up early Sunday to hit
Ikea
for some space and storage planning for a big commercial project I've been working on with
Brian Patrick Flynn
. I remember that I used to wish I lived near an Ikea (which was never gonna happen back at home)--now I feel lucky I'm only a 20 minute drive away. I was in and out with a fully planned workspace AND shopping list in less than an hour.
4. Snagged a gorgeous vintage armoire in EXCELLENT condition. There are so many possibilities with this piece, I can't wait to get my hands on it. If the weather holds up this week, expect to see a transformation that will take your breath away.
5. Spent some time looking at fabric this weekend for recovering a set of chairs.. Also finally got a beloved pair of pillows made. Look for a full revel later this week!
6. Saw some amazing new metallic tile while shopping for a client's fireplace facelift (residential project for our commercial client). Textured chrome subway tile? Yes, please.
7.
What did we do before online shopping??
I hit the jackpot last week when I found these barstools that, for some reason, remind me a bit of a
Klismos chair
(love!). I'm keeping my fingers crossed that they'll arrive this week and be even more fabulous in person.
Hope you had a great weekend!