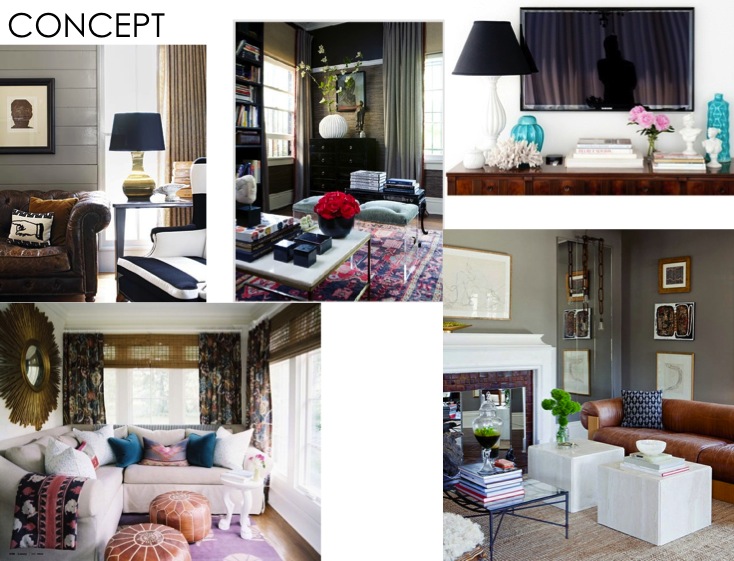 A few weeks ago I was contacted to do an e-design plan for a family room.
My client, a out-of-state wife and mom of 2, was just moving into a "new" home that was also undergoing renovations so she was longing for one finished space the family could claim immediately. Her list of must-haves wasn't extensive and there were only two existing pieces I had to work with--the existing wall color (San Antonio Grey by
BM
) and a cognac-colored leather sectional. After taking some time to pinpoint her style, I assembled her
9-page design plan
and emailed it off Monday night. Here's a look at what I created for her:
And then yesterday morning I got the sweetest, most hilarious email from her. It truly made my day:
Dayka.....
I freaking LOVE IT!!!! You did exactly what I needed which was take my style and way too many ideas and form them into a perfect plan. I still have to take it all in, but I just had to let you know that I am so pleased with this design! I feel like doing a

Pentecostal Holy Ghost run around the office girl!

Thank you so much!
I have a couple of questions, but as I said, I still have to take this all in and calm myself, woosah :-)
She's said some funny things in her emails before, but this took the cake. And if you have no idea of what she's talking about, you have to watch the first few minutes of this video:
So in other words, the design plan I created for her Family Room made her happy enough to want to do
that
at her job. I couldn't stop laughing yesterday morning, but
I'm also thrilled that she loved her plan.
So....if you're in need of a
great interior designer
and want me to create a plan like this for you (so you can want to do that at YOUR job, too!), email me today:
dayka@daykarobinsondesigns.com