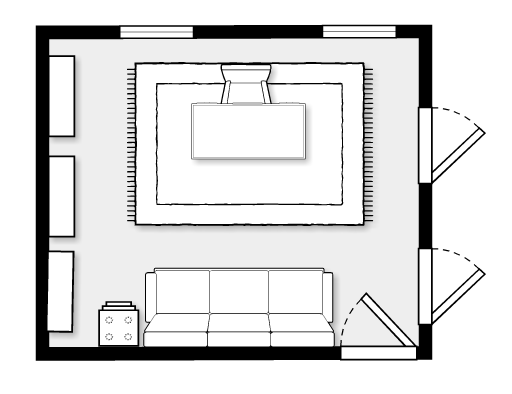 I am stuck, stuck, stuck.
Can't decide on which layout I want for my new office. The good news is that I have plenty of square footage and will be able to fit everything I need, specifically storage, in my repurposed space. I have a few ideas in mind for desks, but I can't make a final decision until I get the layout situated. So here's where I want to hear your opinions--let me know your preference in the comments (all but the last 3 floor plans are in scale, so you'll get an idea of what I'm working with) and maybe that will help me hurry up & make a decision!
So far, I love the idea of doing a long desk on the window wall a la
Amber Interiors
...
But the desk would have to be pretty big to balance the 2 windows (which are not centered) and I don't know if that makes since it's just me for now. And of course I love the layout that
Lee
whipped up, no
ifs
,
ands
or
buts
.
And I've always loved this number by
Jean Randazzo
but moreso because I love the feel. When I look at it, it screams comfy chic home office...a place where you can clock 12 hours (in style) and not want to kill yourself when it's time to head to bed.
But I'm also drawn to having a large workspace in the room--great for working through fabric & tile samples or drawing sketches. There's no shortage of workspace in this Vintage Modern number...
So don't be shy now...which layout is your fave??