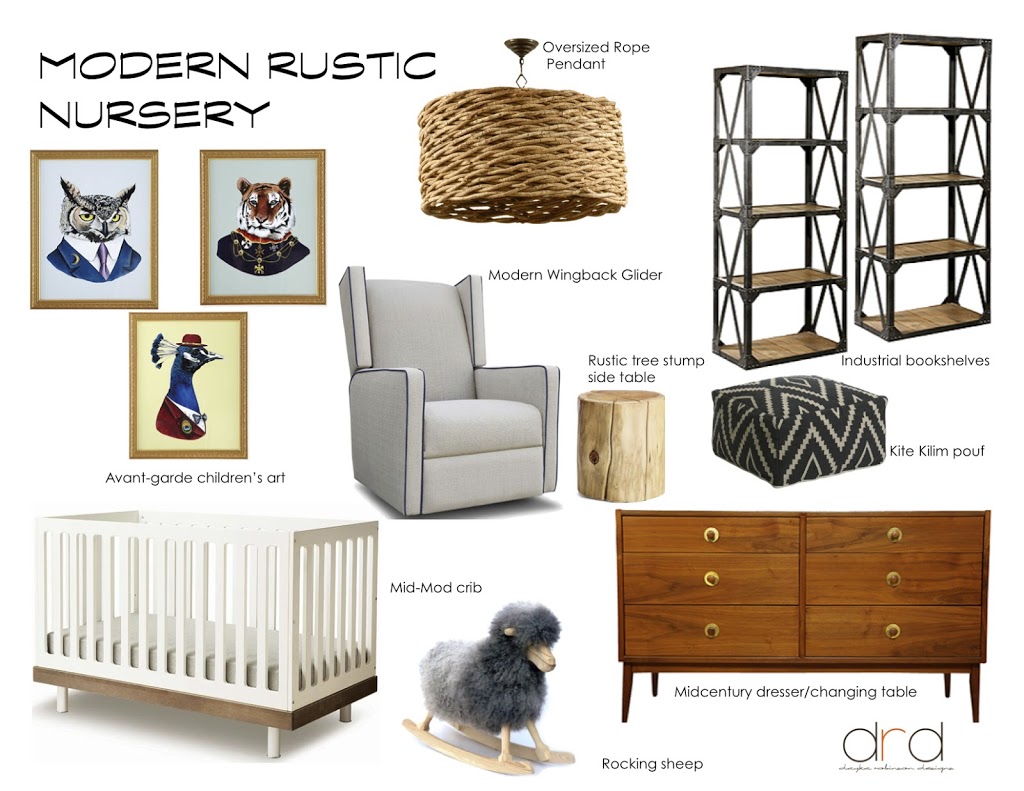 Let's talk nurseries, shall we?
Two of my BFFs had kids this year--one towards the beginning of the year (
this guy
) and another just a few weeks ago. My
business partner
also had her baby at the beginning of December (her 4th!!) and I know a few other people who a currently preggo (including Kim & 'Ye), so you can say there's a lot of baby fever going around...except with me. I'm not quite ready yet, so in the meantime I design...and what better to design than a nursery!?
This Modern Rustic nursery is a board I created as part of my
FLOR presentation
back in August. It's not for an actual client (unfortunately), but my plan is to wish it into existence because I
lovelovelove
this space.
What's so fab about it, you ask?
Let me share.
I like my kids rooms (the ones I design and the ones for the kids I don't actually yet have) to feel like kid spaces but not be novelty-central or, on the flip side, super grown adult spaces. I know the kids love Dora but I wouldn't source Dora sheets for their room--it just lacks personality. And I would never, ever do a novelty border, either. It just baby (or cheese) and I think there are so many more ways to make kids rooms interesting than to go for the easiest thing available. What I love about this plan is that all of the furniture can grow with the baby or be allocated to different areas of the house--the bookshelves make great office storage, the dresser/changing table can do double duty as a TV console, the pendant would be perfect in a breakfast nook, and the glider would look just as at home in a Master Bedroom. Use your paint colors & accessories to provide interest & whimsy and because the major pieces are "real" adult pieces, you'll still get the air of sophistication befitting your favorite adult spaces.
Now that's what I call a fab nursery.
postscript
: I've got 2 "girl dates" this weekend so I'm already making progress on
my goals
for this year--start strong, finish strong is my motto! Enjoy your weekend!