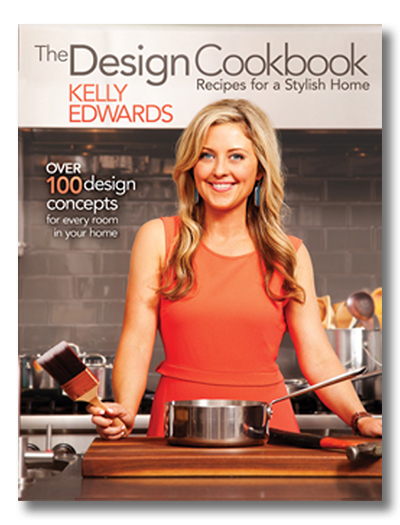 So I've known about this for a very long time, but I wanted to wait until the book was released to tell you....
MY WORK HAS BEEN FEATURED IN A DESIGN BOOK!!!
Yup, it's kind of supercalafragilisticexpialidocious.
Kelly Edwards
of the Style Network (Thom Filicia) and HGTV fame has written a great new design book called
"The Design Cookbook: Recipes for a Stylish Home"
and my breakfast nook is featured among the designs! I was so excited when she reached out to me last year and could hardly contain myself when my copy landed on my doorstep Friday evening.
I should tell you, the book is gorgeous (and I'm not just saying that because my work is in it)!
Her idea is ingenious--compiling hundreds of great interior spaces and having the designers break down how the rooms were put together, just like a recipe book. If you're a DIY-er, this is a book you'll love because you can identify the spaces you love and then use the designer's method to design a similar space of your own. Not to mention, there are some pretty cool DIY projects in the book, too. I tell you, if I'd thought of doing a book like this mysef I surely would've done it! If you're like me and you like a good picture book, this one won't disappoint.
And speaking of Friday evening, I was invited by
Kristin
to a dinner hosted by
Mohawk Flooring
to meet designer
Taniya Nayak
from HGTV's Design To Sell and the Food Network's
Restaurant Impossible
and it was SO much fun. And when I say fun, I mean
F.U.N.
The company was great (
Erika
,
Kristin
, &
Katie
) and the Mohawk ladies, Amanda & Rachel were a blast. We had THE best time swapping stories and the conversations were all so engaging, I felt like I was torn as to what conversation I wanted to be a part of at any given moment (I love it when that happens). And the scoop on
Taniya?
After Friday night she is hands down, my favorite TV personality. She is SO warm and engaging in real life...she kept calling our dinner
Girl's Night Out
and it really felt like it, even though we were all new to her. I love it when you meet celebs/TV and they're even better in person than you imagine them to be. And let me tell you--that great energy she gives off on camera? Homegirl is the real deal, and so transparent. She's definitely the type of girl you'd want to hang out with...so cool.
pic via Erika's Instagram
I can't rave about her enough, so a huge thank you to
Mohawk
for inviting me to meet & dine with Taniya. JCT Kitchen was delish & we stayed so long we practically shut the restaurant down!