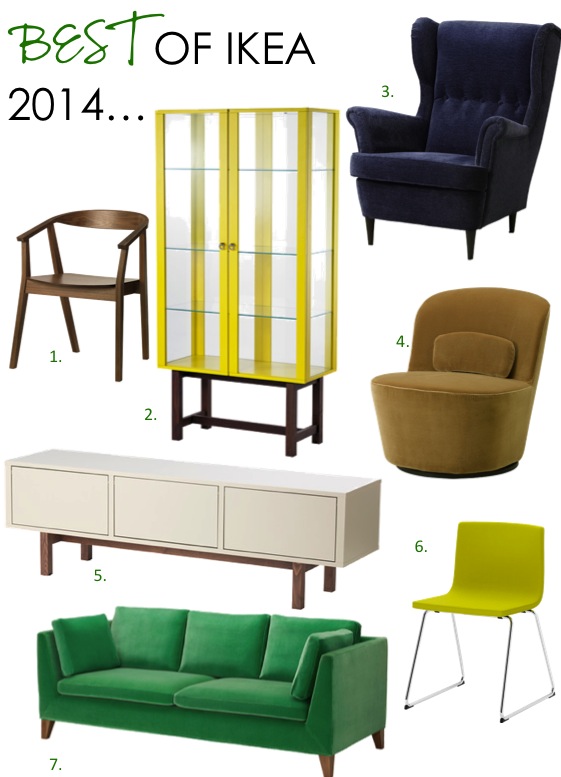 There were lots of goodies in the new 2014 Ikea catalogue this year, but I've narrowed my faves down to the things I could see myself using over and over, both for clients and myself! I'm predicting that these will be some of the things that are hardest to keep on the shelf this year...give it a few months and watch!
1. Stockholm Chair, $139
The new Stockholm dining chairs come in a Walnut veneer and a painted green finish but the Walnut finish is my hands-down favorite. Love how Ikea's introducing more classic finishes on their most versatile pieces.
2. Stockholm Glass Door Cabinet, $399
Ma-ma. Saw this in the catalogue and nearly drooled over it. The style is so clean & modern--very Jonathan Adler--but the yellow pop keeps it fun & youthful. I love that they used ring pulls on the doors instead of a basic knob...totally elevates the final look.
3. Strandmon Wing Chair, $279
You know times are changing when you see a traditional Wingback chair at Ikea! This chair comes in 3 colors that are saturated enough to give your space a jolt of energy yet still neutral enough to play well with your other pieces. I'm actually doing some custom reupholstery on one of these for a Master Bedroom project I'm working on now and can't wait to see the finished result.
4. Stockholm Swivel Chair, $399
These chairs would be great in a commercial application or a smaller residential space. The fact that they come in velvet AND swivel makes them a smart buy in my book!
5. Stockholm TV Unit, $299
I'm still seeing wayyyy too many flat screen TVs sitting atop bulky and/or unattractive TV units!! I love how the new walnut finish is being incorporated onto the frames and bases of so many of the new cases pieces...definitely ups the ante. This will be my go-to recommendation for an inexpensive TV unit...plus it comes in an all Walnut (veneer) option. Can't really beat this for $300.

6. Bernhard Chair, $149
These could work for office chairs just as well as dining chairs with 3 color options (white, black, citron) and style for days. For a client (or friend) looking to add some color to their space, I'd suggest the citron option. Personally, though? I'd have the seats reupholstered for a custom look. I can just see a stripe running down the center of the seat now...
7. Stockholm Sofa, $999
I mentioned this number last week but couldn't do this post without including it in the final round up. I made an Ikea run last Friday and totally forgot to lay eyes on this sofa but in the meantime, I'm still in love until I have a reason not to be. This is the ONLY place I've seen a kelly green velvet sofa for under $1,000. If you know of another source, I'd love to see it. I have experience with Ikea sofa's so I absolutely vouch for them and in my book, this one's a total winner.
Have you had a chance to peruse the new Ikea catalogue? What's your favorite piece??