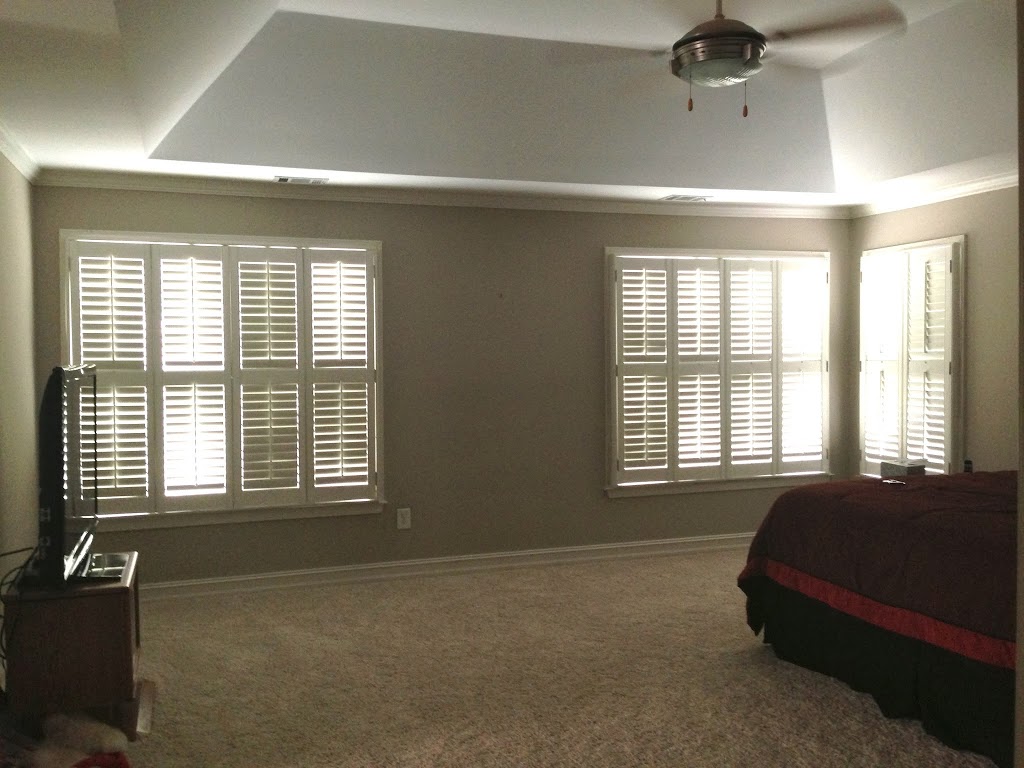 Pictures are truly the best tools we Interior Designers have to document the power of good design!
Take, for instance, my last bedroom project...
Before--View from doorway to new bed wall.
My former client was becoming a "his & her" team and combining residences with her sweetie...her "new" bedroom was devoid of furniture minus a bed, tv, & tv stand. No nightstands, bedside lighting, or seating areas--lots of work to be done!
Before--View from bathroom towards old bed orientation.
You can see their concept & color palette
here
. And now the pretty part...the
Afters
...
The showpiece of this install was this custom, King-sized wingback tufted headboard that I designed for their room.
Gorgeous, right??
"His" request was that the bed stay at (at least) its current height (32+ inches) so to compensate for the higher-than-standard measurement, I designed the headboard to stand at 87" tall with a 7" wrap-around for a cozy feel (hence the "wingback" designation). Placing the bed on the wall opposite the door allowed it to be framed by two large windows on either side of the bed and though the bed partially blocks the windows, the ample natural light that floods the room means that they don't have to worry about the room feeling like a dungeon--their light exposure is what designers dream of!
Two (bedrooms) becoming one often makes for a shortage on storage space, so a pair of dressers were sourced to increase their clothing storage. With a cherry tone finish, clean lines & modern hardware, this pair is Modern Traditional design at its finest!
A reading nook for the free corner.
The "she" in this duo is an avid reader and wanted a cozy chair deep enough to snuggle up in and read a book. Since there weren't many ready-made options on the market to fit her specifications, I suggested the
Ikea Strandmon chair
which I had my upholsterer (love that guy!) reupholster in a
Kravet
linen. If you read my blog, you know that I LOVE finding ways to use existing furniture pieces and rework them so they meet my client's needs. It's not always cheaper than using ready-made, but if you're going to pay retail prices, I always recommend you find the piece you need (with great bones--so important!!) and make it fit for your project--this little shortcut means you can have the luxury of custom at the same price as retail! Now THAT'S what I call a deal.
The bedding is a mix of custom (Duralee) and retail, which tends to work best when strict budgets are involved. The
labor alone
on a custom duvet can easily run $300+ which doesn't even include your fabric, so a good compromise is to fabricate custom bed pillows and then source a retail option for your duvet and coverlet. In this case, the duvet came from Nate Berkus' line for
Target
and was a perfect match for our selected palette. Since I couldn't find a vintage bench wide enough to anchor a King bed (I wish I still had
this old one
!), I found one we all loved on
Overstock.com
and had my trusty upholsterer reupholster the seat in the Duralee print my clients previously selected.
The secret to great design?
Style assessment + space planning + high/low mix--it's a formula that works every time.
So now I have to ask...
What's your favorite part??