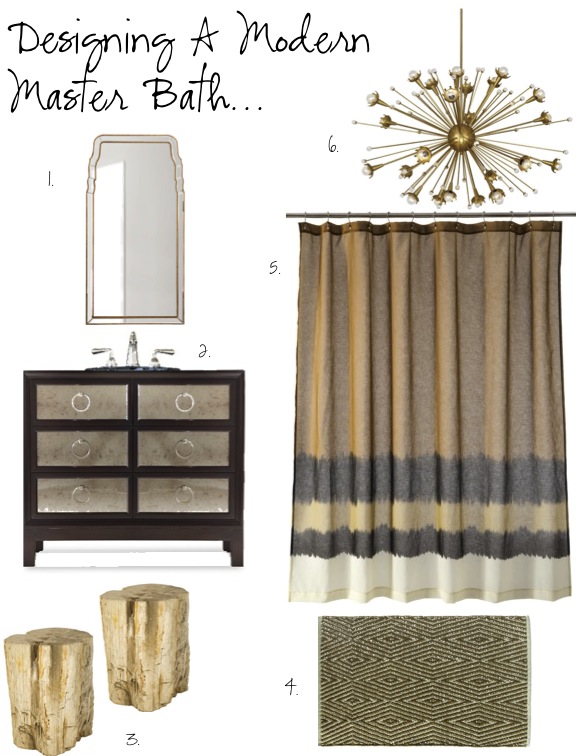 I have a dirty little secret....my Master bathroom is hideous.
Not much has been done to it since I purchased my home back in 2006 and my home was built in 1985, so that should give you a rough idea of what I'm working with. I wouldn't dare frighten you with any "before" pics unless I had the "afters" too, so I'll spare you the visual assault. But what I can tell you is this: it's been in a state of disrepair for awhile and I'm slowly but surely tackling it bit by bit.
So in the spirit of celebrating fresh & clean bathrooms, I'm sharing my top picks for a modern bathroom redesign.
1.
Queen Anne Style Mirror
: Whenever possible, my choice for a bathroom mirror is to always go with an option that can do double duty--a mirror you'd use in your entryway, living room or bedroom--so I love this mirror for just that purpose. Let's make your bathroom fabulous and functional at the same time.
2.
Regan Vanity
: When it comes to a
bathroom vanity
, my thoughts always gravitate towards pieces that look like regular furniture. And as much as I don't really consider myself to be a "modern" decorator, I'm all about
modern bathroom vanities
--there's just something about a clean & streamlined look in the bathroom that I love. At first glance, this could easily fool you as an entry console if you didn't see the faucet on top. The antique mirror drawer fronts and brushed nickel ring pulls scream sophisticated glamour...and elevate your everyday hygiene game.
3.
Petrified Wood stool
: I think we can agree that bathing is an experience (especially for the ladies!). With your lotions, gels, scrubs, deep conditioners, face masks, shaving creams and everything else in between, I'm one who LOVES to have a place to sit in the bathroom. These stools add a much needed organic quality and rustic texture to the space, plus they won't require too much maintenance. If you let let them patina as they may, you'll actually love them more the longer you have them.
4.
Aztec Diamond Jute rug
: I've loved this rug since it first came out. I frequently find myself gravitating towards flat diamond weave textiles, so this pick is no big surprise to me. And while a fluffier rug might be slightly more welcoming underfoot, flatter weave rugs generally wear better over the long run. So think of this option as getting more bang for your buck.
5.
Dip Dyed Shower Curtain
: I don't think you should spend a ton on a shower curtain unless it's a custom design...and even then, the idea of spending a "ton" is relatively speaking. This dip dyed number is seriously chic but you wouldn't know it by the price tag. Don't over look your favorite home discount stores when shopping for items like shower curtain--you'll be surprised at what you can find!
6.
Giant Sputnik Chandelier
: Lighting is one of the most underestimated parts of an interior design project. Of course there's the functional purpose--you need abundant & ample to make sure you're leaving the house looking your best--but it's also a great opportunity for visual impact. My suggestion? Treat your bathroom like an extension of the other living spaces in your home and source lighting that makes
you
look amazing
and
looks amazing on it's own.
And with this chandelier hanging above, I can assure you there will be plenty of meetings in the ladies' room.