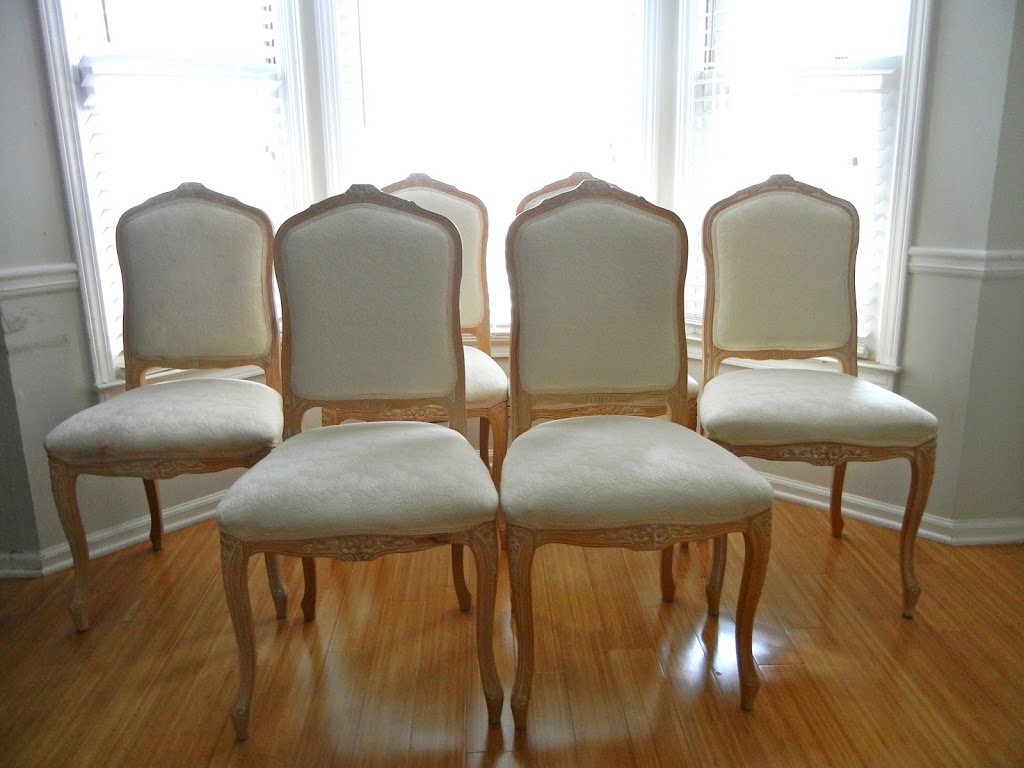 Remember when
I found this set of 6 Louis XV style dining chairs on Craigslist?
Well after much thought I've finally decided to tackle them myself.
It's been awhile since I've done any major DIY projects, but this should be a fairly simple (though slightly time consuming) project. To be honest, I'm just sick of seeing these white chairs hanging out in my dining room, and since I actually have everything I need to get them done, that's what I'm gonna do. My dining room is begging for reupholstered chairs.
The plan is to refinish the frames in a high gloss black and reupholster the cushions in a black cotton with a white double contrast welt on the front of the chair and one of these numbers on the back. I'm leaning towards the using the middle print on the back of 4 chairs and the lambswool on the back of the 2 head chairs to keep it interesting.
So the tedious part of this process is removing the old fabric, glue and staples from the frame. To do the detail work I used a mini flat head screwdriver and a set of vice grip or locking needle nose pliers. First you'll want to pull off the cording/welt/trim, then figure out the best way to remove the fabric. Fortunately I was able to use my pliers to pull off the first layer, then go back and remove each of the staples with my mini flat head...and there were lots. I saved the seat & back fabric remnants to make a template for the new fabrics and that was all it took to take these chairs apart. Pretty simple!
I'm painting as I go to allow the chairs to cure as long as possible. At this rate, I should be done sometime next week, but I'm not complaining! Once everything is stripped & painted, I'll show you how I reupholstered the cushions in Part II.
One down, 5 to go.