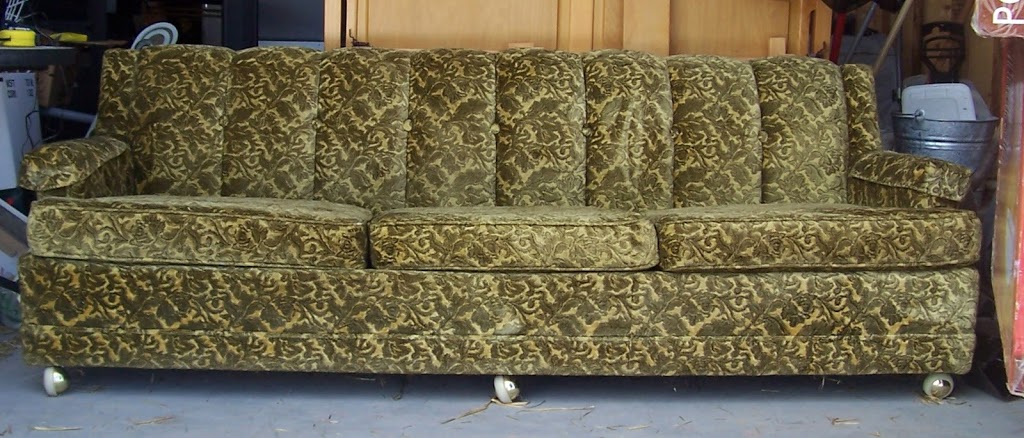 Stacy, a reader from Wisconsin, sent in a photo of this amazing vintage sofa (that she found for $30), looking for reupholstery inspiration.
I absolutely love this sofa because it's such a classic design and reminds me a bit of an English Roll Arm sofa, with its low profile arms and traditional lines. You also can't beat the $30 price tag!
Stacy has some serious upholstery skills so she'll actually be taking this one on herself which would seem impossible, except she's behind this transformation :
Incredible, right? So here are my recommendations to upgrade her sofa:
For a great print, chose Mill Creek Indoor/Outdoor Felton Shadow via
Fabric.com
, $8.98/yd. This small print won't be disturbed by the channeling on the back, and looks great from a distance.
Another great punchy print with an ethnic design is
Thom Filicia's
Euclid in Apricot (via
Calico Corners
). It's a bit pricier at $54.99 (currently 20% off!), but worth the investment for the drama.
And as much as I love the idea of casters on a sofa, it's clear that the casters seen here can't support the weight of the sofa (see the slight sag in the middle?), so I'd recommend adding feet to support the weight. My favorite choices from
Table Legs
include these:
Large Tahoe Bun Feet ($23.50 in Black Walnut), for a modern, more streamlined look.
Bell Bun Feet ($19.95 in Black Walnut), for a traditional look, similar to what you'd find on the English Roll Arm.
And that's it! With just a few changes, this sofa can go from modern contemporary like this Templeton sofa from
Jonathan Adler
,
Reupholstering furniture is so much fun, especially when you're able to do it on a one-of-a-kind piece. Good luck, Stacey--let me know how it goes!